L e o
At the 2006 Border Collie Specialty show - Leo became an AKC champion of Record
He is our kissing guy. He has a wonderful pedigree.
Leo is out of DUAL champion boodlines.
His father , Lydeardlea Angel In Disguise(Joey) is an English import.

Joey is a dual champion (conformation AND Herding) Leo's mother holds a conformation champion title and she is an English import as well.
Leo has acquired his AKC champion of record title in May 2006 at the Border Collie specialty show where he won winners dog. He finished with a 4 point major.
Leo is availble for stud to approved bitches only.
Leo is a started dog and shows a lot of potential in herding.
Leo's OFA score is "Good" and Eye CERF normal.
Leo Herding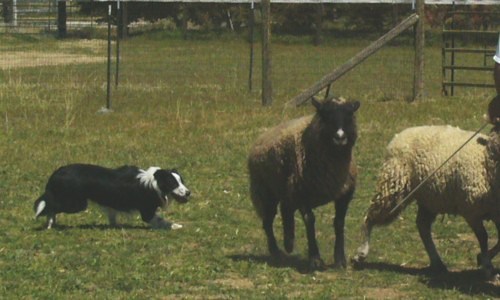 At training
Leo Herding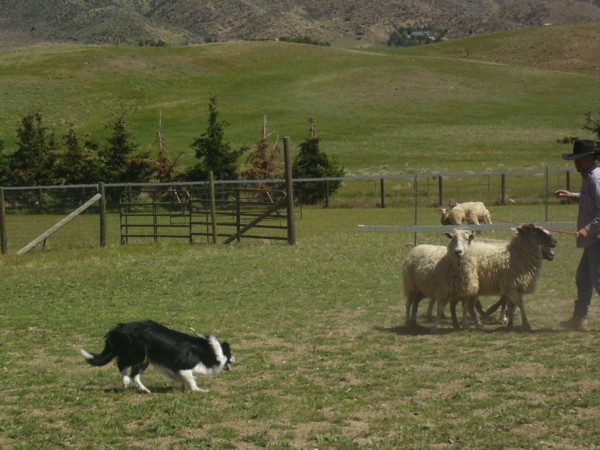 Click here to see more pictures Of Leo
This Pedigree is of Leo - AKC name: Serena's Crown Estates as well as for his sister Tess:
Pedigree for CH. Serana's High Tea
Border Collie
Sire
Am DC Lyderdlea
angel in Disguise
HXBs
Black & White, born 8 Jan 1999, hips OFA-Good, CEA normal

Sire
Lydeardlea Mr Raffles
Black & White, born 31 Jul 1996, hips 8/4, CL normal, TNS normal


Sire
Lydeardlea Sultan Of Swing
Black & White, born 25 Sep 1990, hips 5/5


Dam
Lydeardlea Satin Doll
Black & White, born 16 May 1991, hips 7/6


Dam
Sh Ch Lydeardlea Angel EyesBlack & White, born 1 Jan 1993, hips 6/7, CL normal, TNS normal



Sire
Sh Ch Brooksbid Country Classic
Black Tricolour, born 26 Mar 1991, hips 5/4, CEA normal, TNS normal
Dam
Dykebar Firegem At Lydeardlea
Black & White, born 6 Apr 1988
Black & White, born 6 Apr 1988

Dam
Am Ch Ginnylands Scarlet Ribbons
Red & White, born 18 Sep 1996, hips OFA-Good, CEA carrier

Sire
Gillesta Red Lamboughini
Red & White, born 23 Jul 1990, hips 6/6





Red & White, born 23 Jul 1990, hips 6/6

Sire
Altricia Tagg At Gillesta JW
Black & White, born 11 May 1986
Dam
Gillesta Jaylene
Black & White, born 11 Sep 1988, hips 4/4

Dam
Tychaskye Lucy Locket
Blue & White, born 16 Jun 1992

Sire
Viber Red Baron At Monkfield JW
Red & White, born 26 Jun 1988, hips 6/7

Dam
Aronsa Special Magic At Ginnylands
Black Tricolour, born 6 Nov 1988

This pedigree page was built for free at SitStay.com